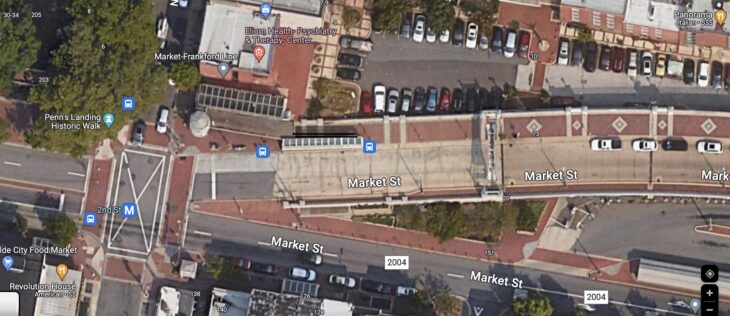 One nice result of the celebrations of October 6, 2023 in Philadelphia was that Roy Goodman put me in touch with Richard Armandi, a long-time Franklinian who is particularly interested in the original locations of Franklin's printing businesses.
The suggestion from Franklin Court is that all of Franklin's business was housed on that property, which is not the case.
According to Mr. Armandi:
in 1728, Franklin went into business with Hugh Meredith at 139 Market Street.
In 1739 Robert Grace, a Junto member, arranged for Franklin to move his business to 131 Market Street.
Around the 1960s, both of these buildings were razed to make room for the overpass to Penn's Landing.
The location of these shops was on the north side of Market Street between Front Street and North Second Street.
He also mentions 141 Market Street and 2nd and Race as Franklin homes, topics for my own future study.
Richard Armando's Research
Richard's research is online at PhillyTown76.com.
His essay, "Memorializing A Forgotten Site in American History," dated May 16, 2022, lays out the history of this block in Franklin's life, through the 1961 placement of a plaque by Sigma Delta Chi, the Professional Journalistic Society, to some ideas for future celebration of this place. A highlight for me is the picture of 139 Market Street, location of that original place of business, in 1960.
Historical Maps
The Greater Philadelphia GeoHistory Network is a wonderful online tool to overlay various historical maps on top of each other.
The 1856-1860 Philadelphia Atlas shows #131 and #139.
The 1910 Philadelphia Atlas is also quite useful: #139 is clearly marked.
The 1875 map has a lot of information on this block.
The 1942 Land Use map suggests building numbers similar (31, for example).
See Also