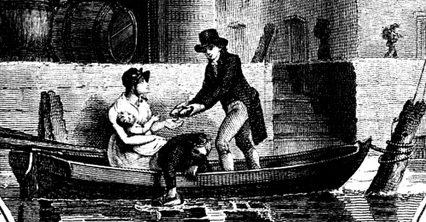 A sentence mentioning the Religion of Ignorance is often preceded by another sentence that starts A nation of well-informed men. Both sentences are attributed to Franklin, but he didn't write them. The second one is even less correct: in a way, it was never written by anybody.

The quote we typically see looks like this:
A nation of well-informed men who have been taught to know and prize the rights which God has given them cannot be enslaved. It is in the religion of ignorance that tyranny begins. —Benjamin Franklin


Quote as provided, 12/12/2018

Franklin died in April 1790. One month later, Dr. Henry Stuber started writing Franklin's life in a series of issues of The Columbian magazine. In 1793, after Dr. Stuber died, that series (and a fragment of Franklin's drafted Memoirs) was incorporated into a one-volume Works of Dr. Benjamin Franklin printed in Dublin as well as a two-volume second edition from London. In 1800, Henry Laurens repeated this, publishing The Life and Works of Dr. Benjamin Franklin. The entire 1800 book is beautifully presented online by Google Books (the image above is from its title page).

On page 87 of the 1800 version, Stuber's text includes the two sentences, circled here: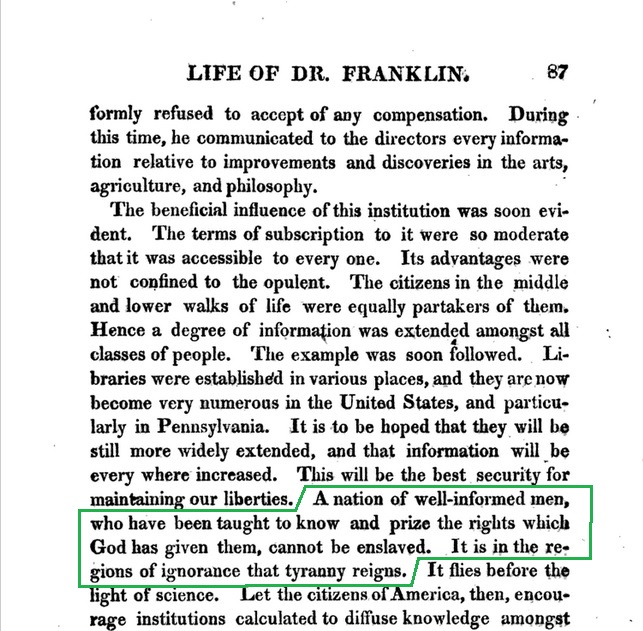 A few things to notice:
This speaks of the regions and not the religion of ignorance – it is mis-quoted with the buzz word religion.
This describes where tyranny reigns, not where it begins: another mis-quote to over-generalize and simplify.

Franklin did not write these words: starting two pages earlier, the editors interject that "the following … was written by Dr. Henry Stuber of Philadelphia." This is mis-attributed to Franklin.

Sometimes bogus Franklin quotes say nice things, but this one gets ugly if you reverse it: when a nation does become enslaved, it must be because they were ignorant or didn't sufficiently value their natural rights. This leaves out being surprised, out-gunned, overpowered, or overcome by disease as factors in one nation's enslavement by another.

This ugly and mis-attributed double mis-quote has been published in at least a few books and countless websites, from the sacred to the absurd and in between.

From the Sacred…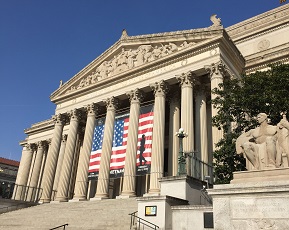 As I write this, in our national repository, the National Archives, in its main building on our National Mall, in the most sacred Rotunda, in the 17th display cabinet on the far right, under glass, is the mis-attributed double mis-quote: "A nation of well-informed men, who have been taught to know and prize the rights which God has given them, cannot be enslaved. It is in the religion of ignorance that tyranny begins. – Benjamin Franklin"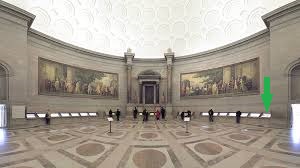 The reported source for their quote is the 1793 Works of Dr. Franklin, published in Dublin, where page 97 contains the two sentences circled above from the 1800 book.

Tangent alert: The 1793 volume that Google scanned, from the New York Public Library, was presented by Paul Leicester Ford from his father's library. PLF wrote The Many-Sided Franklin, an 1899 classic, and is the great-grandson of Franklin Friend Noah Webster. Back to our topic…

In my own library, I find the two-volume 1793 "Second Edition" with the same title published in London, "printed for G.G.J. and J. Robinson" with the same quote circled above on page 195. In all cases, it is clearly stated that we are no longer reading Franklin's words.

To the Absurd


QuoteFancy.com allows a variety of wallpaper settings with pretty pictures behind a mis-attributed triple misquote, with "It is the religion of ignorance that tyranny begins – Benjamin Franklin" — what does that even mean?

And More In Between
As another old saying goes, a lie can circle the globe twice before the truth can get its pants on. This mis-attributed non-quote about "religion of ignorance" has appeared in Bar Association newsletters, in editorials complaining of bogus quotes, and was exported to Austria in 2003. The Franklin Institute considers the first sentence one of the 7 Things Benjamin Franklin Never Said, with a clue to Stuber as the author.
Writers, avoid embarrassment: I will be happy to check the accuracy of any Benjamin Franklin attribution quickly, confidentially and at no charge. My contact information is on the About Us page.
MCM
Acknowledgements

I'd like to thank the sources above, and

Prof. Michael Lang for pointing out this quote in the Rotunda and reminding me of my 2015 posting.
the staff of the National Archives for rapidly providing the sourcing of their current Rotunda exhibit.
David Hudson for discussing the source used for his editorial.
Updates
Most recent update: December 15, 2018, 12:12pm

To receive email notifications of new postings, please contact me.