This page concerns William Temple Franklin, the son of William Franklin, and grandson of Benjamin Franklin. I follow the custom of calling him "Temple" to distinguish him from his father.
Temple died in Paris on May 25, 1823. In 2014, guided by this excellent webpage by L. David Roper, I visited Temple's grave and took a few pictures.  Mr. Roper is a retired physics professor from Virginia Tech, and I found later that I took pretty much exactly the same pictures he took in 2009. Here are mine: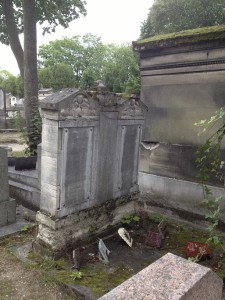 There are two graves marked with a single stone.  A close-up of Temple's stone is here: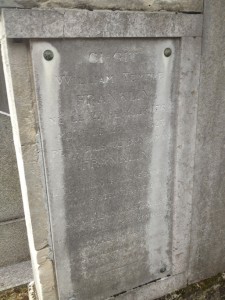 The inscription reads:
Ci-GIT William Temple Franklin
NE LE 22 FEVRIER 1762
MORT LE 25 MAI 1823
PETIT FILS DE BENJAMIN FRANKLIN
IL FUT TOUJOURS DIGNE D'UN NOM
QUI S'ÉTEINT AVEC LUI
SA VEUVE INCONSOLABLE
LUI A FAIT ELEVER CE MONUMENT
COMME UNSIGNE
D'UNE DOLEUR QUI NE FINIRA
QU'AVEC SA VIE
REQUIESCAT IN PACE
— translation —
Here Lies William Temple Franklin
Born 22 February 1762
Died 25 May 1823
Grandson of Benjamin Franklin
He has always been worthy of a name
that will disappear [die] with him.
His inconsolable widow erects this monument to him
as a sign of a pain that will never end
except with her life.
Rest In Peace.
—
I have added my pictures to the FindAGrave entry for Temple.
Reaching the Gravesite
I took a taxi to the Porte Gambetta on the Rue des Rondeaux, going east from the Avenue Gambetta, entered the cemetery through the Porte Gambetta, walked south till that road ends, took a left onto Avenue Transversale #1.
Metro instructions (from Mr. Roper's page): to get to Porte Gambetta gate take the Metro (subway) #1 line (toward Chateau de Vincennes) to the Nation station, then take Metro #2 line (toward Porte Dauphine). Go beyond the the Philipe Auguste station one more stop to the Pere Lachaise station, then take the Metro #3 (toward Guallieni) to the next station Gambetta.
A Recent Question
I have been contacted through this site (the Friends of Franklin website, friendsoffranklin.org)  by a researcher who has traced her ancestry to Sarah Ann Franklin, born July 6, 1788 in Port Tobacco, Maryland. My correspondent found Sarah Ann reported as the daughter of William Temple Franklin and Abigail Brawner.
I believe Temple was in America and on his farm between 1785 and 1792, which is the correct side of the Atlantic, though his farm above Philadelphia is a long way from Port Tobacco on the Potomac, where this daughter was born.
Temple's Women and Children
To clarify Temple's women, I have assembled this timeline:
1781: [after 1781 attempt with Brillons] Temple rebounded by taking up with a married neighbor at Passy, Blanchette Caillot, with whom he had a natural son, Théodore. [source: APS]
1785-92: I believe Temple was in America, returning to England to his father in 1792 [source: APS]
1788: Sarah Anne Franklin born July 6 1788 in Port Tobacco, MD to Abigail Brawner, reportedly the father was Temple. I do not find this woman or child in the Franklin sources. See Pursuing Sarah, below.
1792, in England: another illegitimate child, Ellen, with the daughter of his father's second wife. [per Elly, 1999:]  Ellen Franklin reached adulthood and married Capel Hanbury. They had a daughter Maria Hanbury, said to be living in Nice, France in the 1870s, who died unmarried, thus ending the line for William Franklin. [Source:  Elly Fitzig post to genealogy.com, 1999]
1790s: [per Elly Fitzig] According to Willard Randall, author of A Little Revenge: Benjamin Franklin & His Son, (Boston, Little, Brown and Company, 1984, p. 494), "Temple abandoned his mistress, William's sister-in-law, and his illegitimate daughter Ellen and went off to Paris. There he sired another daughter by the wife of the British ambassador." This child apparently died in infancy, as did Theophile.
1817-1823: He lived the last six years of his life with his English mistress Hannah Collyer (Born 1771 in England, age 46-52) whom he finally married [shortly] before his death in 1823. Noted as Hannah [Collyer] Johnson Franklin Delariviere, probably FEMME DELARIVIERE buried next to Temple.
1846: Hannah died, FEMME DELARIVIERE, A ETAMPES LE 12 DECEMBRE 1846, age 75), buried next to Temple. [WTF's tombstone]. WikiTree has an entry for Hannah Collyer.
Pursuing Sarah
Sarah and Abigail were reported to me by my recent correspondent.  The Geni.com entry for Temple describes the FindAGrave entry as pointing to a fictional family." The FindAGrave entry for Temple shows his father as William, with no entry for his mother, which is correct; the "fictional family" reference might be to the children listed for Temple:
1) Sarah Ann Franklin Cooper,  the subject of my recent correspondent's inquiry, born February (rather than July) 6, 1788 in Port Tobacco, and also
2) another daughter of Temple and Abigail Brawner, Anna Jane Franklin Smith, born to Temple and Abigail Brawner on April 23, 1798, also in Charles County, MD.
Here's the rub: Temple was in America in 1788, but he was in Europe in 1798. The George Fox Collection at the American Philosophical Society Library has some of his business correspondence during that time. This leads me to believe that the father of Abigail Brawner's two children was maybe some other Franklin, but not William Temple Franklin.  The FindAGrave entry for Abigail Brawner does not list Temple as her husband, which is I think correct, and the listing of Temple as the father of Anna Jane seems incorrect, which leads me to doubt that listing for Sarah Ann as well.
An interesting side note is that Sarah named the first two of her 15 children here as Temple and William. William is a common enough name, but Temple? I cannot imagine someone named Franklin would bypass "the most famous man in the world" (quoting Benjamin's sister Jane Franklin Mecom about Benjamin) to name a child after Benjamin's grandson (Temple), but there it is.
Returning to Mr. Roper's web page, I see his Franklin Surname listings page, which mention Abigail Brawner as the spouse of William Franklin born c. 1750. The Wikipedia page for Temple, as well as his tombstone pictured above,  has his birthdate as February 22, 1760, and his father William Franklin (son of Benjamin) was born around 1730 in England. Based on this, I think the father of Sarah Ann Franklin is another William Franklin, not descended from Benjamin.  I will forward this posting to FindAGrave moderators of the pages involved.
I've put the question to the Franklin Descendants, and will update as I hear further, and I would be happy to hear from anyone about this at [email protected]
Final Notes
A fictional, but historically constructed piece, "Temple's Diary" by Claude-Anne Lopez is online at ushistory.org. Like all of Claude-Anne's writings, it provides insight into the hearts of the people around Franklin, including his grandson.
While scanning in and annotating our Gazettes, I find an excellent posting by Mr. Roper to Volume 16, Number 4, Winter 2006.
Adding, 11/11/2020: Elly Fitzig's notes from the Friends of Franklin Descendants project are now in the Historical Society of Pennsylvania, and described in this finding aid document.