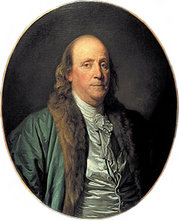 In 2022, we are happy to note that Shai Afsai has published a handsome website on Franklin and Judaism at shaiafsai.com/benjamin-franklin. At this writing, the site has links to his discussion of the Parable Against Persecution, the Mussar Movement (13 virtues), Thomas Paine and other topics.
Thank you so much!
Earlier notes
Shai Afsai, a researcher and writer from Providence, Rhode Island, presented a series of three lectures on January 16-17, 2015, including discussing Benjamin Franklin's connection with the Jews of his day and his subsequent influence on Judaism's mussar movement.
The lecture series was described, with photographs, in this report. We note with pleasure that the Franklin lecture was nicely timed to be given on Dr. Franklin's 309th Birthday.
We are also happy to receive and offer an article by Mr. Afsai on that topic: A Forgetting of Benjamin Franklin.