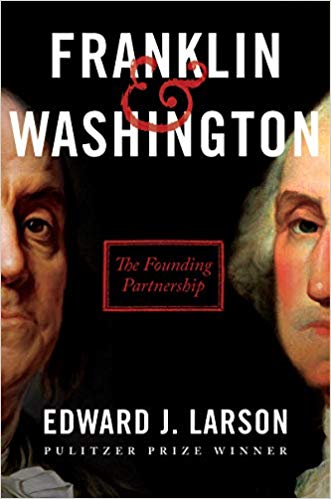 I'm looking forward to Edward J. Larson's book, Franklin & Washington: The Founding Partnership, which was released on February 11, 2020. I found my copy on the shelf in a wonderful bookstore (Four Seasons Books in Shepherdstown, West Virginia) a few days ago.
George Washington knew how to say goodbye, as seen in the profound closing of his last letter to Dr. Franklin:
If to be venerated for benevolence, if to be admired for talents, if to be esteemed for patriotism, if to be beloved for philanthropy can gratify the human mind, you must have the pleasing consolation to know that you have not lived in vain; and I flatter myself that it will not be ranked among the least grateful occurrences of your life to be assured that so long as I retain my Memory, you will be thought on with respect, veneration and affection by Dear Sir Your sincere friend and Obedient Humble Servant
G. Washington

George Washington to Benjamin Franklin, September 23, 1789.
Other Washington Readings
See also