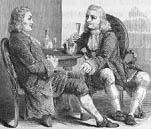 The late Hans Rosling, in his recent book Factfulness – Ten Reasons We're Wrong About the World — and Why Things Are Better Than You Think, relates an experience that bumps into Franklin.
Rosling gave lectures about statistics that prove the world is in better shape than people commonly believe. His lectures were enthusiastically received, and his speaking career included sharing the platform with Bill and Melinda Gates at the 2015 World Economic Forum in Davos, Switzerland.
After receiving applause, Rosling didn't quit while he was ahead. He writes:
… even people who loved my lectures, I sadly realized, weren't really hearing them. They might indeed be inspired, momentarily, but after the lecture, they were still stuck in their old negative worldview. The new ideas just wouldn't take. Even straight after my presentations, I would hear people expressing beliefs about poverty or population growth that I had just proven wrong with the facts. I almost gave up.

Hans Rosling, Factfulness, 2018, page 11.

Franklin's own character, Richard Saunders, recounted a similar experience immediately after hearing Father Abraham's speech in The Way to Wealth:
Thus the old Gentleman ended his Harangue. The People heard it, and approved the Doctrine, and immediately practised the contrary, just as if it had been a common Sermon….

Poor Richard Improved, 1758. Papers, VII:350.
So Franklin's character found some comfort that his wisdom, expressed by "the old Gentleman" was received as if from a pulpit, like "a common Sermon." I hope Mr. Rosling and his co-authors find some comfort that the phenomenon they've encountered has been around for a long time.

See Also